Boss Oilwell T-600S Well Service Pump Pump
BOPM's T-600S offers a versatile small footprint pump that can perform a variety of duties for the well service industry. The unique design features an offset crankshaft / crosshead design which substantially reduces the load on the crosshead and crosshead guides as well as the main roller bearings supporting the crankshaft. The T-600S can be utilized in a back-to-back configuration to perform rugged acidizing, cementing, gravel packing and snubbing operations.

Applications: Cementing, Acidizing, Gravel Packing, Snubbing.
Features:
· Fully Interchangeable with OEM SPM TWS600
· Ability to pump at pressures as high as 20,000 psi
· Lightweight and compact;
· Superior performance and long life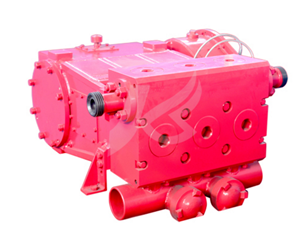 Specifications:
· Rated Max.Brake HP : 600BHP(447Kw)
· Maximum Rod Load : 100,000 Lbs.(43,360kg)
· Stroke Length: 6"(152.4mm)
· Gear Ratio: 4.6:1
· Length: 50.25"(1276mm)
· Width: 52.8125"(1341mm)
· Height : 23.875"(607mm)
· Weight Dry(Approx.):4,600 Lbs.(2086kg)